Are those energy bills already zapping your summer fun?
Great news – there are some home updates, inexpensive projects, and even minor changes in routine that can create notable savings. Try these savvy energy-saving tips to lower your utility bill.
Consider looking for an energy-efficient home
House hunting is absolutely about finding a place that looks and feels like home, but also keep in mind practical considerations. Updated windows, modern appliances, and a sufficiently insulated attic can have big impacts on home energy use.
Conversely, some home features, such as cathedral ceilings and sun rooms, can increase energy costs. While they seem appealing, don't forget to think about how they can effect your monthly budget.
When you do find the home you love, be sure to walk through the home alongside the inspector. This way you can learn about your home's energy efficiency. They can tell you things about insulation levels, and the age of major appliances and equipment in the home.
If your dream home doesn't come with an energy-efficient water heater or updated windows, don't worry. Issues that show up during a home inspection provide an opportunity to negotiate with the seller.
Assess major appliances and equipment
Shopping for new appliances and equipment? You're in luck! Most modern appliances feature an Energy Star label that displays a yearly estimated operating cost: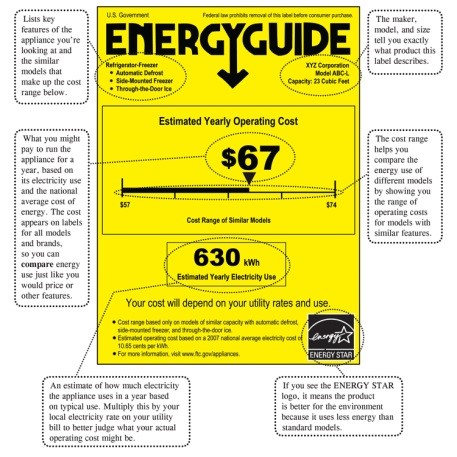 Try quick, energy-efficient fixes
Not every move toward energy efficiency requires an expensive home upgrade. There are all kinds of quick fixes that owners and renters can make to cut back on energy costs.
Consider some of the following tasks:
-Replace weather stripping on drafty doors. This will keep bugs out too!
-Wash laundry in cold water.
-Change your ceiling fan's direction.
-Use energy efficient bulbs .
-Turn off lights. It seems obvious but we could all do a little better.
-Install Dimmer Light Switches.
-Insulate your home.
-Avoid using the oven and cook less, maybe grill more?
-Close blinds and curtains to keep the heat out!
-Hang the laundry outside, I know it seems old-fashioned but it helps.
-Run the dishwasher and washing machine at night so they aren't competing with the AC.
If you do decide to make energy efficient upgrades, don't forget to do a quick search to see what tax credits and rebates you might be eligible for. Check The U.S. Department of Energy's tax credits, rebates, and savings database .